Casumo guide to verify personal account
The online gaming industry is full of unreliable local bookmakers and scammers, but Casumo has a perfect reputation and genuinely cares about new and active bettors from India and other regions. That is why the company asks all newcomers to complete a special verification procedure and prove that they can legally join the resource. Casumo needs to check your age and identity to make sure that you are an adult user. And since Casumo is an international online casino, all players must confirm their current location.
These actions help Casumo to comply with all local gambling-related requirements, and there is no need to be afraid of the verification process. Read this article to find useful tips and step-by-step instructions for inexperienced clients. And do not forget that you can always contact sympathetic customer support specialists via email and Live Chat to ask any verification questions.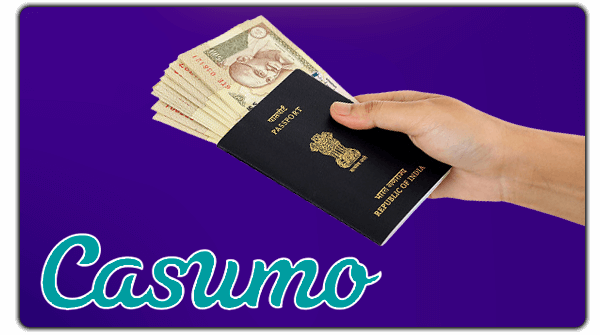 What is KYC?
Casumo KYC stands for Know Your Customer, and it is a standard verification process used by many gambling-related companies. The platform's managers ask all newcomers to send photos or scans of their documents, and you must complete the KYC verification to join Casumo and start playing your favorite slots, table games, and live casino games. This procedure includes two important steps:
Identity and age check.
New bettors must prove their identity by sending their legal documents (passport, ID, driving license). And do not forget that the platform's ID verification also includes age confirmation. You must be at least 18 years old to join Casumo, and that is why you need to prove that you can legally use the company's Casino.

Address verification.
All countries have different rules and requirements, and that is why the resource needs to know your current location. New users can prove their address by sending their latest utility bills. Do not forget that these bills must have your name, address, and Zip-code on them.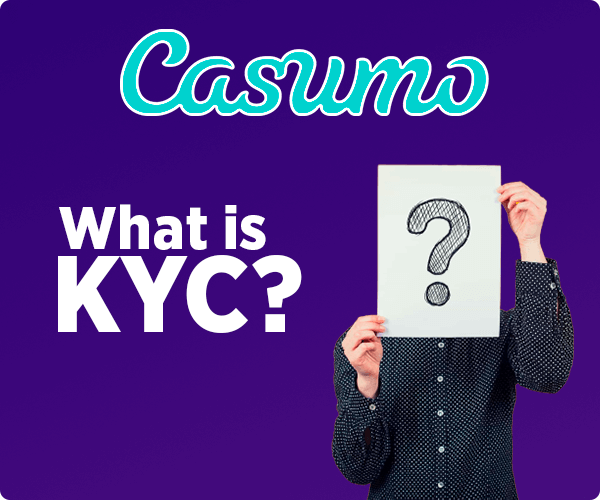 What is SOW?
SOW stands for Source Of Wealth, and this method is very popular among online casinos with headquarters in Europe. According to local gaming laws, Casumo and other companies must check all suspicious transactions, and that is why many resources ask their customers to complete special SOW checkups. This is a mandatory procedure, and Casumo asks all clients to prove their source of income. You can receive an SOW notification after very big deposits or strange bets.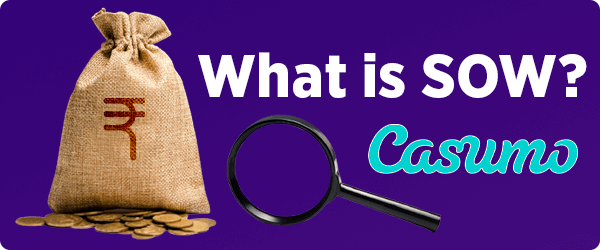 What's the SOW request process?
SOW is a very simple procedure, and Casumo users just need to prove that they have a legal source of income. Send scans or photos of these documents to show that you are an honest punter:
Employment – employment contract/payslip;
Sale of property – contract of sale;
Sale of securities – share certificate;
Inheritance – will;
Winnings from lottery/betting/casino – certificate of win or bank statement.
After sending your documents, you just need to wait for the platform's managers to verify your account. Casumo has very strict account verification time limits, and that is why your SOW process will be completed without any delays.
Use the 'Live Chat' button or click 'Email us' if you have any questions about the procedure.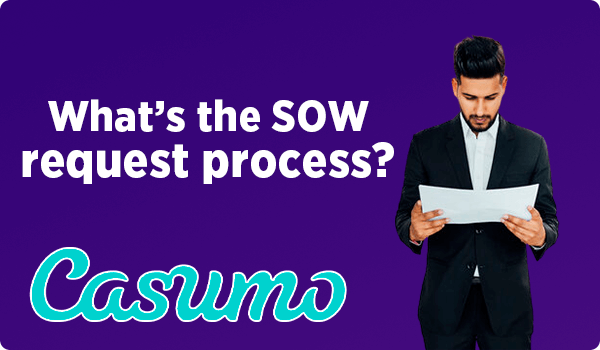 Casumo verification process
Casumo has a very simple verification system, and that is why you should follow the instructions below to verify your account in just a few minutes:
Join the platform. New punters need to go through the registration procedure to join the platform. Go to the official website or download the mobile app and click the 'Sign up button'. Fill in your name, surname, country, address, and other personal details. Enter your login and come up with a b key to create your account.

Make a deposit. After joining Casumo, every client must make a deposit to activate generous bonus offers and start winning money on online gambling. Visit your casino wallet, click the 'Deposit' pop-up, and select the most convenient payment method. After that, you just need to fill in your banking details, enter the amount you want to deposit and confirm your transaction.

Start your Casumo account verification. Casumo doesn't want to bother its clients during gameplay, and that is why you need to complete the resource's easy verification procedure right after your first deposit. Click 'Verify' and send your latest utility bills to prove your address. Take a photo of your passport, ID card, or driver's license to confirm your identity and show that you are over eighteen years old.

Finalize the brand's ID check and Address verification. Wait for Casumo to check your documents and verify your account. Since the resource has special Casumo verification time limits, experienced managers will analyze your bills, ID, and other documents as quickly as possible.

Start playing casino games and placing profitable bets. After completing the procedure and replenishing their Casumo wallets, new players can visit the 'Online Casino' section to find exclusive games and profitable offers. Do not forget to use your rewards to place wagers without any risks or play free casino games.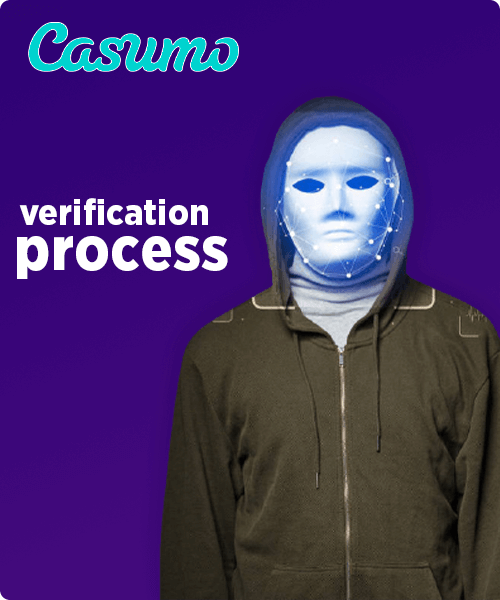 New bettors must remember that they shouldn't send fake documents or personal details.

You get your account paused for several days, and the company can even use the 'Delete account' feature to punish scammers.
What do we do with your personal information?
Many inexperienced gambling enthusiasts believe that all bookmakers just want to steal their private information and money, but it is not true at all. Even though you shouldn't send your credit card details to unreliable local resources, international companies care about their players and use the most effective methods to keep them safe.
Casumo is a very reputable bookmaker, and there is no need to worry about your personal and banking details. The company uses your data just to check your identity and makes sure that it is protected from scammers.
Remember that you can always contact Casumo support experts and ask any safety-related questions.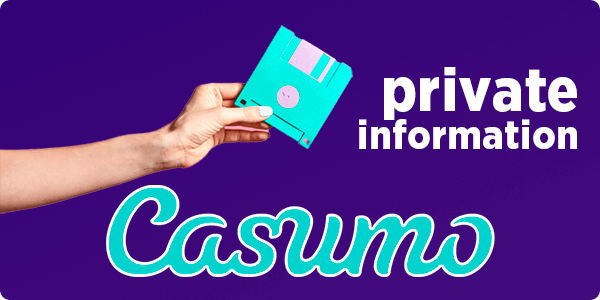 How to play responsibly at Casumo
Casumo tries to make your gambling experience as satisfying as possible, and that is why newcomers can find a lot of information about the platform's features, read special guides, and ask any casino-related questions even before registration. Use these tips to be a responsible player:
Create your personal account and try all settings and buttons before making your first deposit;
Visit the FAQ section or use Live Chat to contact friendly and helpful experts;
Learn how to analyze betting offers and use this knowledge to place only profitable and winning bets;
Distribute your gambling funds wisely and don't bet big sums of money.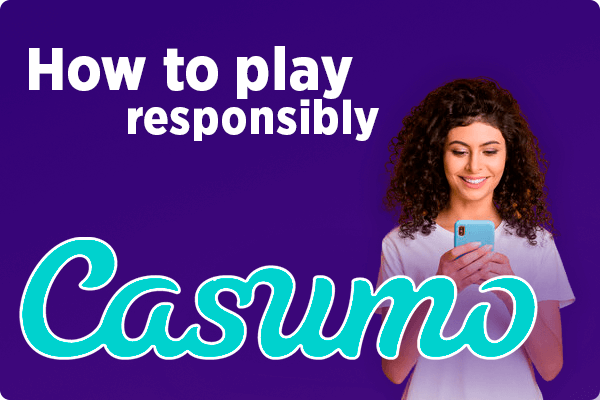 FAQ
How do you know if you need help?
Since Casumo helps inexperienced clients from India to bet responsibly, you can always visit the company's 'Play Okay' section to answer special questions and find out if you have a gaming problem and need help.
How old should I be to play in Casumo?
Age restrictions depend on your country of origin /current location, and you must be at least 18 to join gambling platforms without any troubles.
Why do you need to specify the address where you are located?
All countries and regions have different gambling-related requirements and rules, and bookmaker companies need to know your current location to comply with these rules. That is why Casumo asks all new punters to send their utility bills.
Can I play at the casino without verification?
Newcomers can use the platform in Demo mode to enjoy virtual casino games for free and have some practice. But do not forget that verification is a mandatory procedure, and all new clients must go through it to activate their accounts and start winning real money.