Casumo Responsible Gaming
When playing at the casino on our platform for real money, it is necessary to remember that one can easily get carried away with gambling, so it is important to follow the rules of responsible gaming. We pay attention to such aspects as comfort, safety, and the absence of risks, as it is important to us that our users adhere to the basic rules of honesty. Here we would like to remind you that self-control is an essential step on the road to responsible gaming.
To ensure your protection as well as to warn players about the possibility of risks of getting addicted, we want to share Casumo's policy on this issue.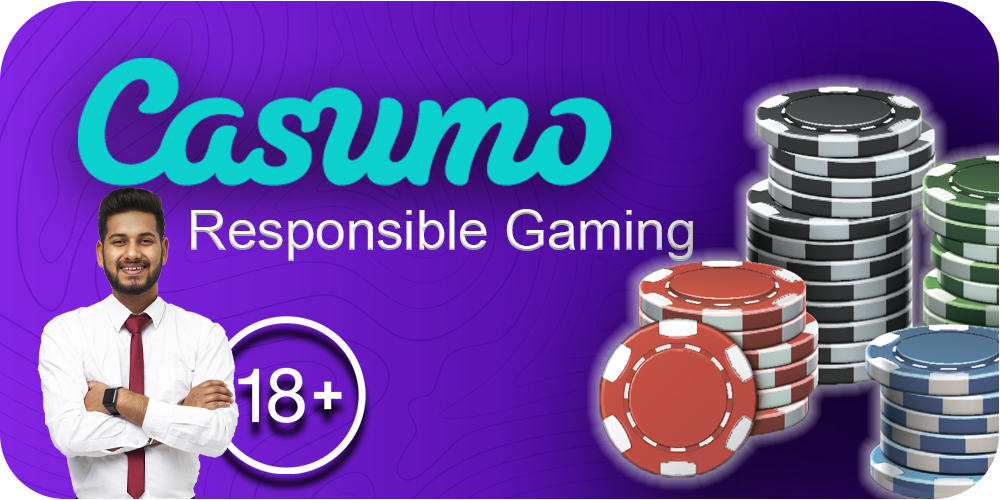 Casumo Cares
Sometimes when playing Casumo casino, users can get too carried away with the game and not notice how having fun can turn out to be a real addiction. We take full responsibility for our players, so are ready to provide our help and timely support if needed. On our platform, you can set some limits with Play Okay, to keep control of the situation and ensure that you can get only positive emotions from the game.
To avoid problems, users need to remember a few basic things before they start playing for real money.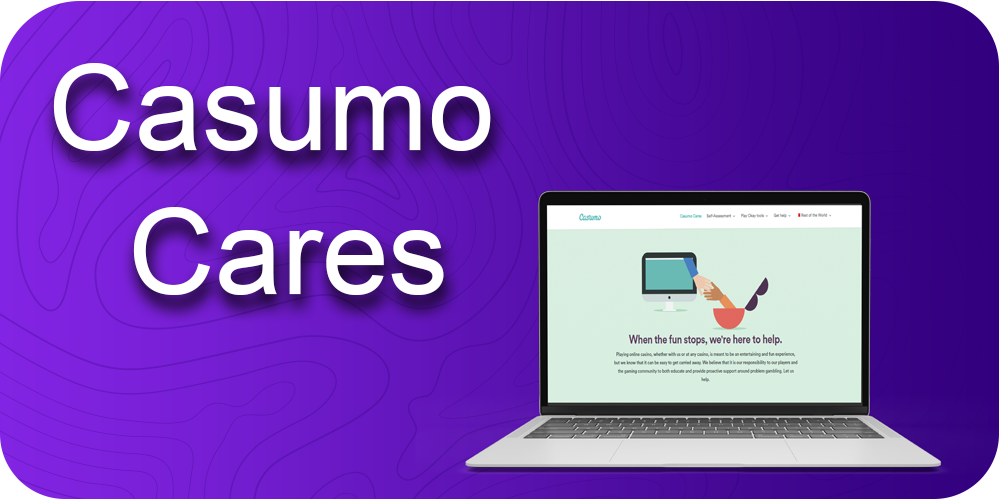 Self-Assessment
To play safely and healthily, the player must have control over his actions and not succumb to total immersion in the world of gambling. To find out if you have certain difficulties and how safe your gambling is, you can take a free and anonymous test on our platform. These questions do not constitute medical diagnosis or counseling.
Below are some questions from the self-assessment test:
Feeling dissatisfied if you don't play the game;
When losing, a sense of loss remains as well as a need to win back money as quickly as possible;
Gambling debts;
Going off into the gambling world to avoid real life;
Unsuccessful attempts to stop gambling in the past;
Excuses and lies if asked questions about gambling;
Staying home after work or school to gamble;
Frequent and unsuccessful attempts to wager large amounts of money;
Gambling has begun to replace your family, friends, and past interests;
Negative emotions and deterioration of well-being;
Lying, stealing, and cheating for the sake of gambling.
If you answered positively to any questions, we recommend you to contact our support service, where caring and qualified specialists of Casumo will give you the necessary help.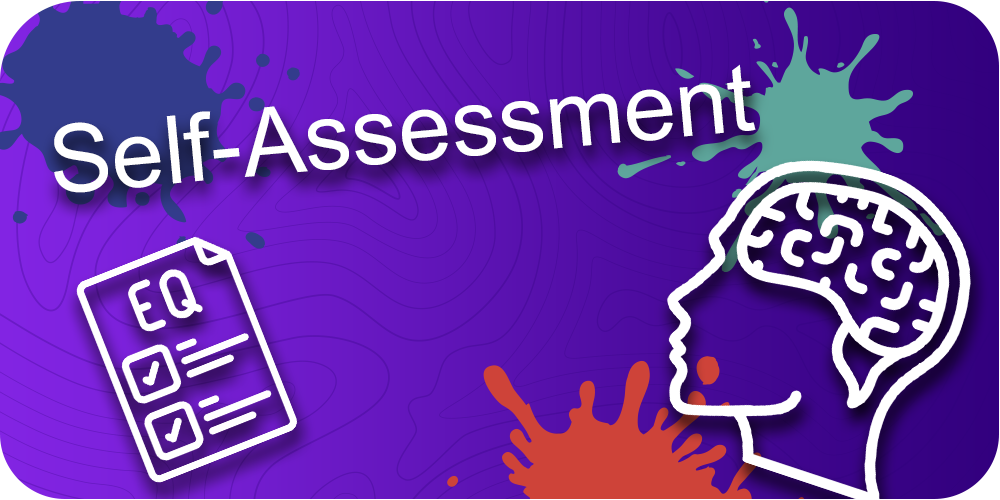 Play Okay tools
For your control, our platform has some limits to help users keep their composure and not make mistakes. Our team is ready to advise you on this at any time.
We offer several options for you, which can be combined with each other if you wish:
Logging in for a certain time limit. In this case, players are allotted a certain period of time on the platform, after which an automatic logout will be performed. For example, if you have chosen the 4-hour limit, you will be able to play the game exactly during this period of time, and when you log out, all game data will be saved at the moment. To increase or cancel the limits you specified, you need 24 hours after submitting your request.
Login time block. Using this limit, you also limit the time you spend on Casumo, for example, you set a time block for a week. That is, the ability to play will be calculated based on the time interval you set, as well as based on your geo location. Reducing and canceling the limit will also require you to submit a request.
Deposit Limit. Here you set a certain limit on the amount of money to be contributed for a certain time, and if it is exceeded, you can no longer make a deposit before the deadline expires.
Limited Budget. In this case, players can make a deposit within a certain budget limit, as well as replenish the account for an amount equal to the withdrawal of funds for a certain period. That is if your budget limit is 100 INR, but you withdraw 200 INR, you have the opportunity to deposit 300 INR.
Loss Limit. This limit restricts the player's money losses, that is, if you reach a certain amount of losses, you will not be able to bet until
Wager Limit. With this limit, players are allotted several bets on a certain amount of money during a particular period of time. For example, if you set the restriction of 100 INR, you can bet 10 times 10 INR.
In any option you prefer, you must specify an amount and a time restriction for a daily, weekly, or monthly period of your choice. Any limit can be canceled, increased, or decreased, and the changes must be confirmed in the Play Okay settings.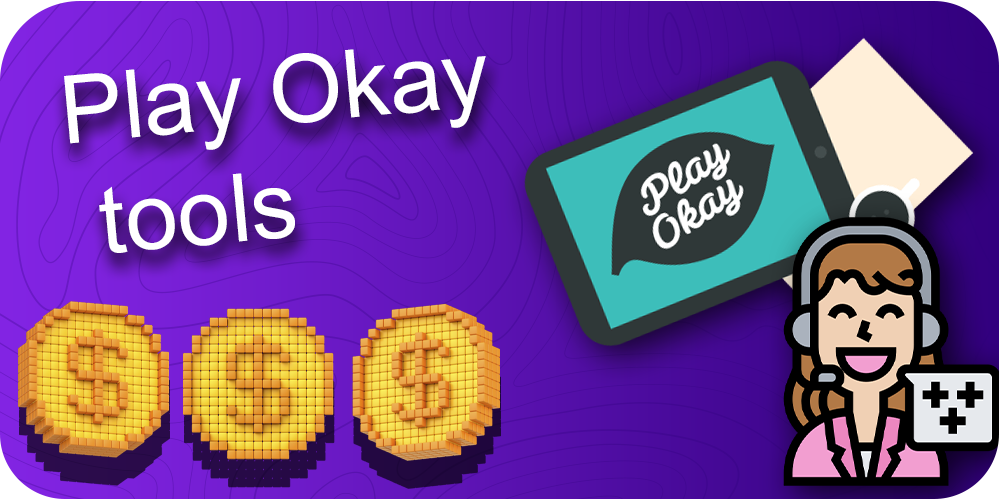 Get Help
We assure you that we can provide the necessary support for users suffering from gambling addiction. Consumo specialists will be able to answer any questions and provide the care you need around the clock, and you can contact us via live chat or by mail at [email protected] You shouldn't be afraid to ask for help if you really need it.
We would also like to share with the organizations that can assist you in overcoming addiction and getting back to real life:
Gambling Therapy;
GamTalk;
Gordon Moody Association;
Gamblers Anonymous;
Responsible Gaming Foundation;
GamBan;
GamBlock.
Our platform is ready to provide all conditions for responsible gaming, but it is necessary to remember that every player who gets into the world of gambling, should keep control and self-possession.